Visit to the Department by John Ward-UK (Met Office) & Ateam from KMD and Congo
Hiking Ngong Hills by undergraduate Meteorology students
As part of knowledge development,the undergraduate students from the Department of Meteorology Hiked Ngong Hills on Saturday 2/04/2015.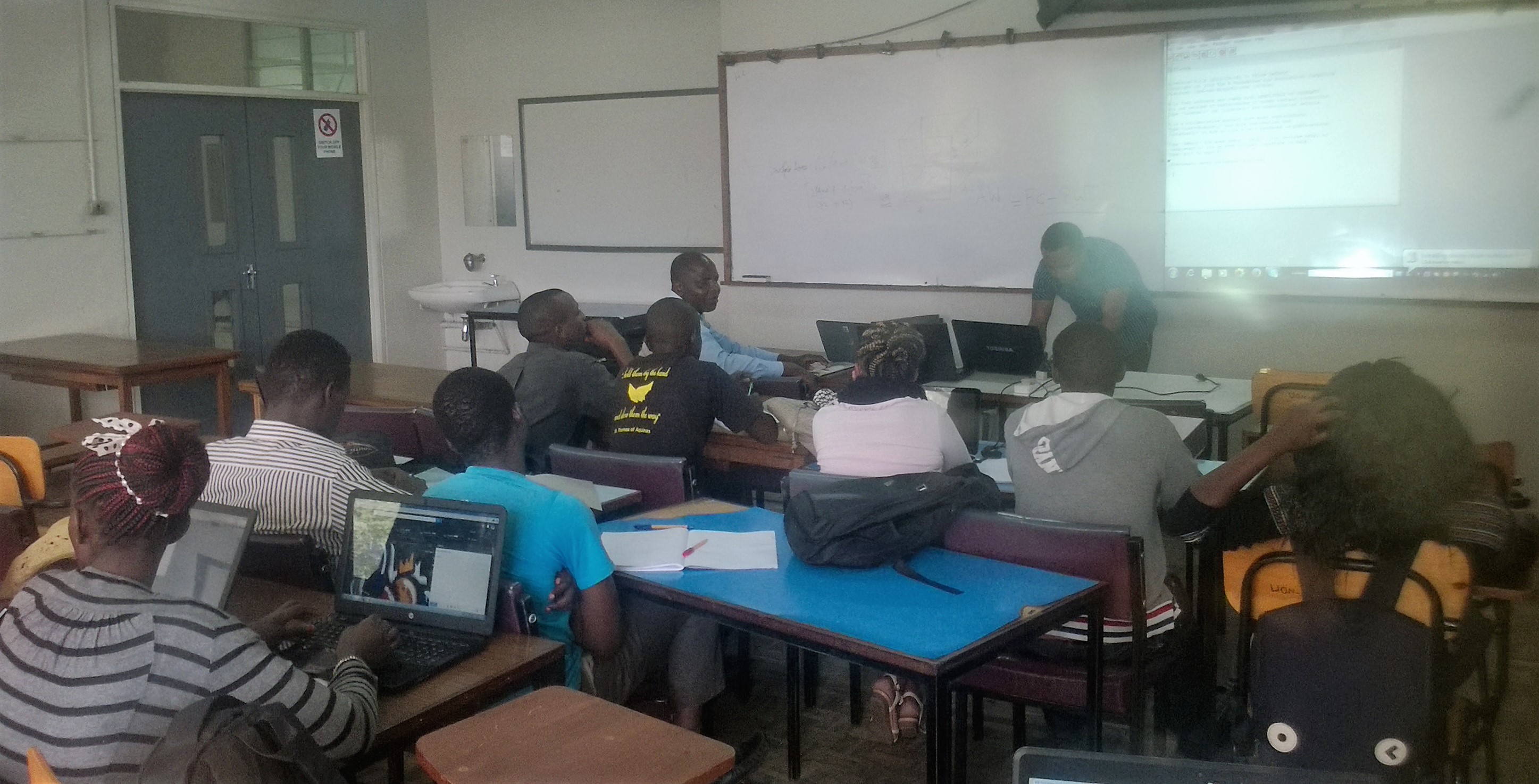 Fourth years students being trained on R-Program which will help them in data analysis.
Use of Corel draw in Graphic Design
Meteorology Students' Visit at San marco
MASTER OF SCIENCE IN CLIMATE CHANGE
Master of Science in Climate Change is a new course offered in the Department of Meteorology,University of Nairobi.
The course is interdisciplinary in nature and is open to potential applicants with atleast a first degree in many areas of specialization..
Above:Graphics of climate change.Master of Science in climate change is a new program to adress many such challenges.
Courses
| Title | Course Code | Course Hours | Semester | Year |
| --- | --- | --- | --- | --- |
| Disaster risk assessment (ELECTIVE) | SCC 632 | 45 | | |
| Changes in climate extremes and their impacts on the ecosystem (ELECTIVE) | SCC 631 | 45 | | |
| Climate Change Science | SCC 601 | 45 | 1 | |
| Climate Change hazards, vulnerability and risk assessment | SCC 602 | 45 | 1 | 1 |
| Climate change adaptation and mitigation | SCC 603 | 45 | 1 | 1 |
| Socio-political dimensions of climate change | SCC 604 | 45 | 1 | 1 |
| Economics of Climate Change | SCC 605 | 45 | 1 | 1 |
| Climate change and environmental sustainability | SCC 606 | 45 | 1 | 1 |
| Climate change and geospatial modeling | SCC 607 | 45 | | |
| Research methods and Techniques | SCC 608 | 45 | 2 | 1 |
| Research project | SCC 609 | 180 | | 2 |
| Climate Change Agriculture, Livestock and Food security(ELECTIVE) | SCC 610 | 45 | | |
| Technology and innovation for climate change(ELECTIVE) | SCC 611 | 45 | | |
| climate Change, Human health and wellbeing(ELECTIVE) | SCC 613 | 45 | | |
| Energy resources and technologies (ELECTIVE) | SCC 615 | 45 | | |
| Climate change and Water Resources Management (ELECTIVE) | SCC 616 | 45 | | |
| Climate change and Water Resources Management (ELECTIVE) | SCC 616 | 45 | | |
| Rapid climate change(ELECTIVE) | SCC 617 | 45 | | |
| Climate Change and Biodiversity (ELECTIVE) | SCC 618 | 45 | | |
| Climate Change and Coastal Zone Management (ELECTIVE) | SCC 619 | 45 | | |
| Statistics and modelling for climate change science (ELECTIVE) | SCC 620 | 45 | | |
| Advanced Climate Change Science (ELECTIVE) | SCC 621 | 45 | | |
| Regional Climate modeling and Scenarios (ELECTIVE) | SCC 622 | 45 | | |
| Physics of Climate Models (ELECTIVE) | SCC 623 | 45 | | |
| Climate Change Modeling and Simulation | SCC 624 | 45 | | |
| Socio economic dimensions of Climate Change adaptation and Mitigation(ELECTIVE) | SCC 625 | 45 | | |
| Gender and Climate Change (ELECTIVE) | SCC 626 | 45 | | |
| Advanced socio-economic benefit assessment of climate change (ELECTIVE) | SCC 627 | 45 | | |
| Environmental International Agreements (ELECTIVE) | SCC 628 | 45 | | |
| Communication of Climate Change(ELECTIVE) | SCC 629 | 45 | | |
| Disaster risk communication (ELECTIVE) | SCC 630 | 45 | | |