Undergraduate Class Timetables effective September 2018
Semester Timetables September 2018
Information for International students
Regulations for International Students
All foreign students are required to register with Center for International Programmes & Links using the designated registration form. For information, please click here.
Climate and Weather
Immigration and Foreign Exchange
Life at UoN
Welcome to our beatiful and Serene Campus
For more on life at the University click on the link below
Location
Direction
Look at the map below for direction of Chiromo Campus (B) from Jomokenyatta International Airport (A), which is about 20 KM.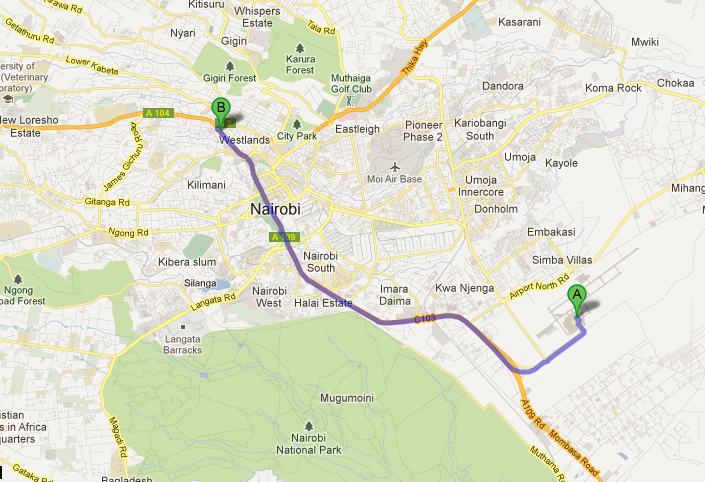 International Students
Over the years, Department of Meteorology has trained anglophone speaking students from the following countries: Botswana, Congo, Cote d'Ivoire, Ethiopia, Gambia, Ghana, Lesotho, Liberia, Madagascar, Malawi, Namibia, Nigeria, Rwanda, Seycheles, Sierra Leone, Swaziland, Tanzania, Uganda, Zambia and Zimbabwe. The table below summarises the data on admissions per year per country in each programme since the 1999/2000 academic year.
Year

BSc

PGD

MSc

PhD

Total

2012/13

Botswana (3)

Tanzania (17)

20

2011/12

Congo (1)

Namibia (5)

Rwanda (3)

Tanzania (1)

Uganda (1)

Namibia (1)

12

2010/11

Namibia (1)

Rwanda (4)

Uganda (1)

Rwanda (1)

7

2009/10

Botswana (2)

Namibia (1)

Congo (1)

Tanzania (1)

Uganda (1)

6

2008/09

Botswana (3)

Namibia (1)

Tanzania (5)

Swaziland (1)

Tanzania (6)

Tanzania (1)

17

2007/08

Namibia (1)

Tanzania (2)

Malawi (2)

Malawi (1)

6

2006/07

Tanzania (4)

Ghana (1)

Uganda (1)

6

2005/06

Botswana (2)

Namibia (1)

Tanzania (2)

Liberia (1)

6

2004/05

Botswana (2)

Gambia (1)

Seychelles (1)

Tanzania (5)

Seychelles (1)

Nigeria (1)

Lesotho (1)

12

2003/04

Tanzania (4)

Uganda (1)

Tanzania (1)

6

2002/03

Rwanda (1)

Swaziland (1)

Ethiopia (4)

6

2001/02

Swaziland (1)

Ethiopia (2)

Uganda (1)

4

2000/01

Swaziland (1)

Ethiopia (4)

Malawi (7)

12

1999/2000

Ethiopia (6)

6